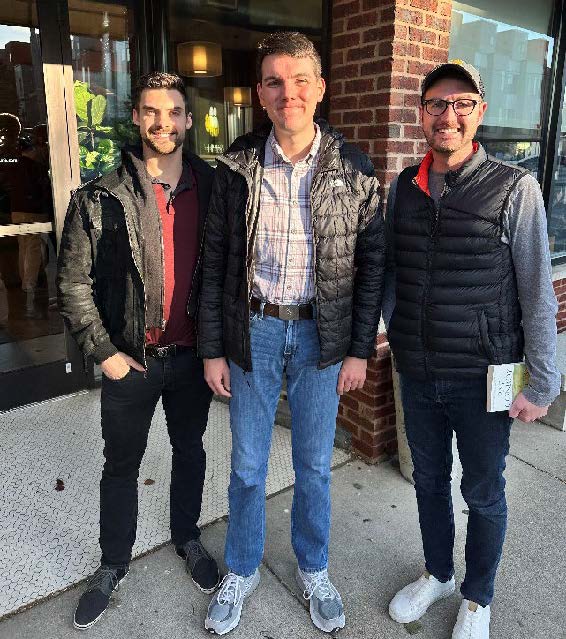 By Jeff Ryan, Manager of Digital Marketing
Having the opportunity to sit down with one of our former clients this past weekend was incredible.
At the age of 28, Joe Gigax has overcome many challenges that many people with autism would find insurmountable.
From securing a full-time job at US Bank, to learning to drive and living on his own, and establishing personal and romantic relationships, Joe has continued to live life to the fullest despite the challenges that stem from autism.
As I sat down to breakfast with Joe and my colleague, David Gerndt, Joe was quick to credit his family, his teachers (especially Amanda Tipkemper), and Best Point's employment services for helping him have so much success in life.
"Without the support of my family, my life could have been a lot worse. What are the chances of an autistic child being born to a special education teacher?", Joe stated, as he reminisced on his experience growing up.
As the breakfast continued, Joe's knowledge was clearly extensive. He bounced from topic-to-topic with complete confidence and certainty. Talking about everything from engines and engineering to the royal family, to geography and historical facts – even pointing out the shortest and tallest presidents (James Madison was the shortest at 5'4" and Abraham Lincoln was the tallest at 6'4" in case you were curious).
And his interests didn't stop there.
He also had extensive knowledge of finances, and opinions on everything from religion to politics to possible solutions for increasing the pay and influence of teachers in an economically sustainable way.
Plus, he was funny. He inserted his sense of humor into the conversation multiple times making both myself and David laugh enthusiastically.
In fact, the hour and fifteen minutes that we spent having breakfast flew by faster than most conversations I've had recently. It was also one of the most information-packed download sessions I've had in my life.
The whole experience was entirely enjoyable and it was great to see the perseverance that Joe used to push forward and achieve his goals in life.
Of course, Joe's story doesn't stop there.
He has dreams for the future as well.
For one, he hopes to continue advancing at US Bank. He'd also like to buy his own home and find love.
He has ambitions to travel to Debrovnik, Croatia in the near future as well to explore the beauty of the architecture and the Adriatic Sea.
Learning about his dreams and were he wants to go was one of the most impactful parts of the entire breakfast experience.
As the sun rose higher and the meal wrapped up, Joe thanked us heartily for allowing him to share his story so that, in some small way, he could give back to Best Point – the organization that had helped him so much.
His goal, he said, is simply to continue inspiring and helping others with autism to rise above their challenges like he has been able to.
As we walked away from the breakfast table and went on with our days, I thought about what Joe had shared with us. His life challenges, his perseverance, and his life story had inspired me to re-evaluate my own.
How can I make a greater impact?
How can we work harder to help others with mental health challenges at Best Point?
How can we do more to give back to those we serve?
The answers to these questions aren't immediate or simple – but the implications of how we answer these questions will be profound.
If we can continue to pull together while constantly learning and developing more effective ways to help those with mental health challenges, ultimately we can make a greater positive impact on others as we help our community thrive.