Ready Set Work is a 4-week summer career and community exploration program for high schoolers with Autism Spectrum and related disorders. Our summer programming focuses on developing the social and vocational skills needed for employment.
Participants will:
Learn interviewing skills
Go on field trips
Work in a simulated work lab
Fill out age-appropriate transition assessments
Explore various careers
Receive a comprehensive skills assessment
Our highly qualified staff will support students no greater than a 1:4 ratio and provide the appropriate support to ensure the growth and employability and independent living skills.
2022 Camp dates are June 6 – 30, 9 a.m. -3 p.m.
LIMITED SPOTS AVAILABLE

For more information contact asd@bestpoint.org
We have a few spots available and will be filled on a first come, first served basis of receipt of the appropriate paperwork. We have scholarship funds available, please complete the enrollment packet and scholarship application and email to asd@bestpoint.org for consideration.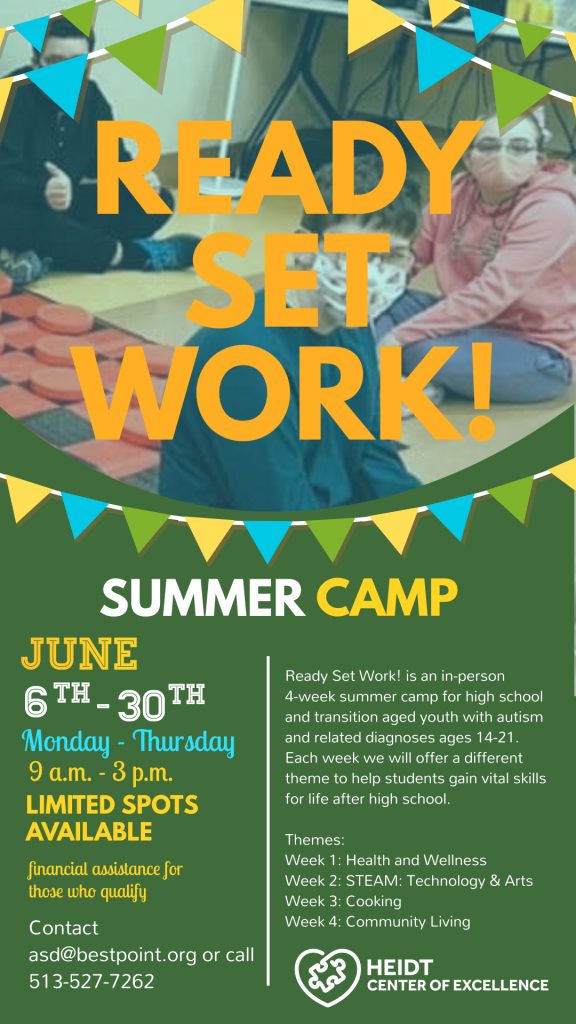 Our mission of transforming the lives of children and their families cannot be fulfilled without the generous support of individuals like you.