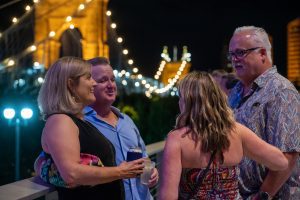 CINCINNATI – Best Point Education and Behavioral Health is proud to announce Britney Ruby-Miller & Caleb Miller, Tim & Lisa Schroeder, and Dr. Gail Kist-Kline & Keith Kline as the official co-chairs of the 2023 Rockin' at Riverfest taking place on September 3, 2023 at the Annie W. & Elizabeth Anderson Pavilion in Smale Riverfront Park.
Rockin' at Riverfest is Best Point's premier annual fundraising event. "Our goal is to raise $620,000 at this year's Rockin' at Riverfest to support the 40+ programs and services that help the most vulnerable in our city," said John Banchy, Best Point's President and CEO. "We are honored to partner with these talented and generous co-chairs. With their help and the support of community leaders that attend this event, I have no doubt we'll accomplish our goal."
Britney Ruby-Miller and Caleb Miller are ubiquitous in the Tri-state. Britney, the CEO of Jeff Ruby Culinary Entertainment, and Caleb, a former Cincinnati Bengal, are both extremely dedicated philanthropists supporting various charitable organizations, including those that focus on children's education and wellness.
Tim and Lisa Schroeder are also contributing their considerable talents to the "Queen City." Tim is a seasoned healthcare executive and the CEO of CTI Clinical Trial & Consulting, a global clinical research organization based in Cincinnati doing business in over 60 countries. Tim and Lisa are actively involved in the community, serving organizations in the areas of education and healthcare.
Drs. Gail Kist-Kline and Keith Kline have made significant contributions to education and healthcare in Cincinnati. Dr. Kist-Kline, the current president of the Christ College of Nursing, has over three decades of experience in the field, and since 2019 has selflessly served as a member of the Best Point Board of Trustees. Dr. Keith Kline retired as the superintendent of the West Clermont School District after a 34-year career in education and now serves as a mental health education and suicide prevention consultant across the state. Together, they have jointly impacted the lives of thousands.
Rockin at Riverfest Event Details:
When: Sunday, September 3, 2023
Where: Annie W. & Elizabeth Anderson Pavilion in Smale Riverfront Park
Time:  5:00 – 11:00pm
Sponsorships & Registration: jbanchy@bestpoint.org